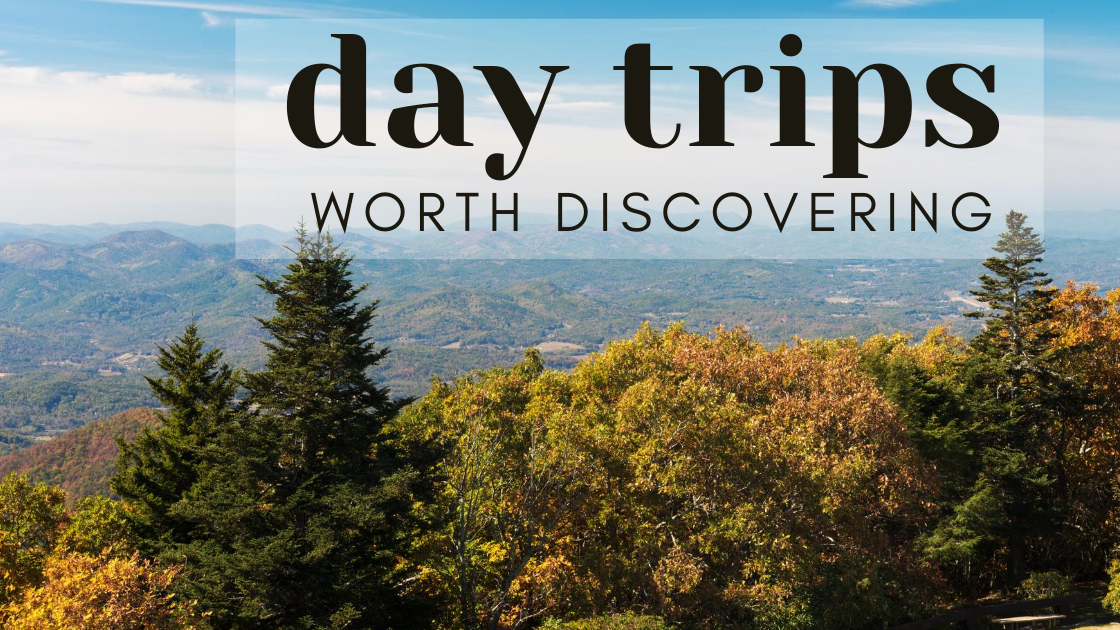 There's no shortage of entertainment and fun activities in and around Atlanta, but sometimes it's good to take a break from the action and escape the city – even if only for the day. Whether you're an outdoor enthusiast or looking to explore the sights and sounds of a new city, here are a few day trips worth discovering, all within a two-and-a-half-hour drive of Atlanta.
Brasstown Bald (Distance from Atlanta: 2 hours 30 minutes)
Along with being the highest mountain in Georgia, Brasstown Bald offers up one of the most spectacular views in our state. From the observation deck located nearly 5,000 feet above sea level, visitors can take in a stunning panorama of the Appalachian and Blue Ridge Mountain ranges and on a clear day can see Georgia, Tennessee, North Carolina and South Carolina. In addition to a visit to the observation deck, other Brasstown Bald highlights include several hiking trails, scenic picnic areas and a quaint general store featuring locally made products. Brasstown Bald Recreation Area and Visitor Center is open Thurs. – Sun. from 10 a.m. to 4 p.m. with a capacity of 60 cars in the parking lot to allow for social distancing.
Calloway Resort and Gardens (Distance from Atlanta: 1 hour 20 minutes)
Located just north of Columbus in Pine Mountain, Georgia, Calloway Resort and Gardens provides the perfect combination of outdoor adventure and relaxation. Calloway offers a variety of recreational activities from golf and hiking to water sports and zip-lining. If relaxation is more your speed, book an appointment for a 60- or 90-minute massage at their newly reopened spa or explore the many gardens on grounds.
Chattanooga, Tenn. (Distance from Atlanta: 1 hour 45 minutes)
Chattanooga is an affordable tourist destination featuring a number of cultural, historic and outdoor attractions. Spanning 16.1 miles along the southern banks of the Tennessee River, Chattanooga's Riverwalk is a must-see for any visitor. Along with passing by restaurants and shops, parts of the Riverwalk provide access to some of the more popular attractions and destinations in Chattanooga's downtown area including the Tennessee Aquarium, the Bluff View Art District, and the Creative Discovery Museum. Other interesting attractions just outside of Chattanooga's downtown district include Ruby Falls and Rock City Gardens.
Helen, Ga. (Distance from Atlanta: 1 hour 45 minutes)
Nestled in the Blue Ridge Mountains, Helen takes its inspiration from the quaint Bavarian villages of Germany. Along with a number of small shops and restaurants, Helen is also a mecca for outdoor enthusiasts with plenty of outdoor activities like tubing and hiking. If art and history are more your speed, the area also features Native American history and an arts community in nearby Sautee Nacoochee.
Lake Lanier (Distance from Atlanta: 1 hour)
Spanning over 38,000 acres and featuring 692 miles of shoreline in the foothills of the Blue Ridge Mountains, Lake Lanier is one of Georgia's largest lakes. This manmade reservoir was created in 1956 when the Chattahoochee River was dammed. Today, the lake is a favorite escape for Atlantans to swim, boat, fish and enjoy other watersports. Several parks, marinas and recreation areas are located along Lake Lanier's shores for visitors to enjoy.
Providence Canyon (Distance from Atlanta: 2 hours 15 minutes)
Known as the "Little Grand Canyon" of Georgia, Providence Canyon is a unique getaway offering breathtaking views of deep, rocky canyons that are the result of poor farming practices in the 1800s. In addition to climbing along the canyon face, Providence Canyon State Park features many hiking trails as well as camping. Be aware that park staff may temporarily limit access to the park to ensure the appropriate social distancing measures can take place.
Serenbe (Distance from Atlanta: 35 minutes)
Whether you're looking for fresh food options, a connection to arts and culture, or simply looking to spend some quality time in nature, the Serenbe community located in Chattahoochee Hills has so much to offer visitors. The vision for the Serenbe community was born out of a desire to protect the beautiful land known as Chattahoochee Hill Country located just outside of Atlanta. Along with 360 Earthcraft Certified homes, the community features a variety of farm to table restaurants, sustainable shops, over 15 miles of nature trails, and extensive arts programming.